The Energetic Vocal Choir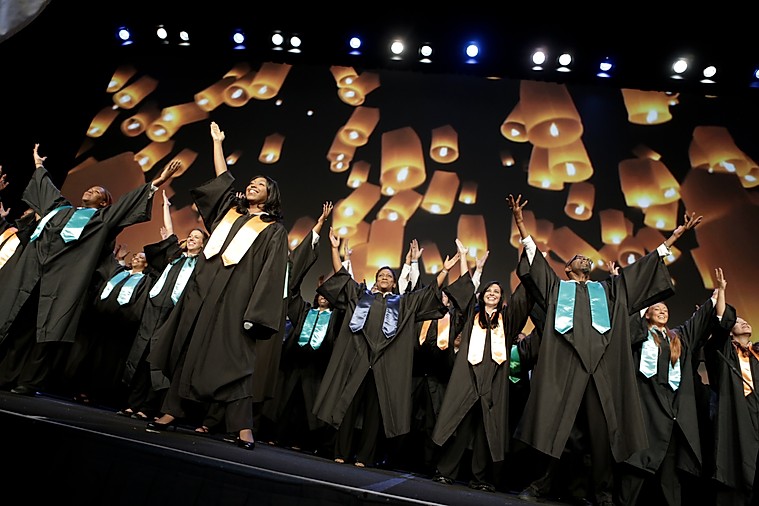 Atlanta's premier Gospel/Inspirational Choir has performed Nationally & Internationally.  Voice of Atlanta (VOA) is comprised of seasoned professional vocalists from the Metropolitan Atlanta area.  Under the Direction of Adam L. McKnight, VOA is a "Voice" of inspiration, producing and performing numerous recordings and performances that have toured nationally and internationally for the prominent artist and corporations.
Adam and Voice of Atlanta scored a major triumph recently, performing in the Super Bowl Halftime Show, backing Adam Levine and Maroon 5.  Maroon 5 loved their performance, giving them a shout out during the show!  It was nationally agreed that their performance was one of the highlights of the Halftime Show.
The Super Bowl Halftime Show was not Voice of Atlanta's only recent Television experience.  Their song "A Leak in the Building" was selected by Oprah Winfrey's OWN Network hit show Greenleaf to be played over the credits of the 3rd Season Premiere Episode, and provided for a powerful close.  In addition, it was the lead track on the Greenleaf Season 3 CD released on iTunes.
When Sir Elton John was writing the original score for "The Vampire Lestat" and wanted a few gospel singers to present the music, Adam McKnight was recommended as the person to call.  Quickly dazzling him by recording 7 songs in 5 hours, Sir Elton was sold!  From that initial encounter, Adam and the entire Voice of Atlanta choir were asked to perform on the Peachtree Road Album, and once again due to their quick study, work ethic and natural vibe have since toured around the world with Sir Elton John.
VOA has also performed and or recorded with such distinguished artists as Secret Garden, The Score, CeCe Winans, Patti LaBelle, Jermaine Dupri, Cee-Lo, John Barry and the British Pop group Razorlight.  VOA has recorded for and/or been featured in major events for Microsoft, Disney, AT&T, Terminex, National Boys & Girls Club, Rotary International, True-Value Hardware, UNICEF, MADD, The National Black Arts Festival, The Morehouse School of Medicine, Waverly Hotels, Ritz-Carlton Hotels and a host of other corporate and community based organizations.
Stirring, uplifting and upbeat – Voice of Atlanta continues to be a go-to source of inspiration delivering a message that touches the soul!!
Click this link to learn more anout the Voice of Atlanta Choir.